Jasmine Sawant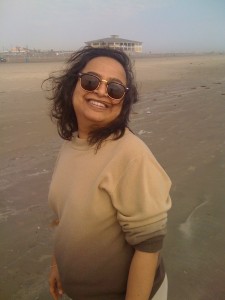 Actor, writer, manager, Jasmine has worked extensively in community and professional theatre in India and Saudi Arabia before coming to Canada. She is the Co-Founder and Artistic Co-Director of SAWITRI Theatre Group since 2003.
Jasmine's most recent stage acting credits include SAWITRI Theatre Group's Gujarati play, Madhu Rye's Koi Pan Ek Phoolnu Naam Bolo To? – Tell me the Name of any flower and Mahesh Dattani's Seven Steps Around the Fire and Where There's A Will in English. Her most recent film credits include, Grandma in Street Soldiers (2016) and Kamla in Dowry, (screened at the 2015 ReelWorld Film Festival). Other credits as listed on Imdb.
Jasmine is indebted to the late Mahendra Joshi, her mentor in theatre, whom she met in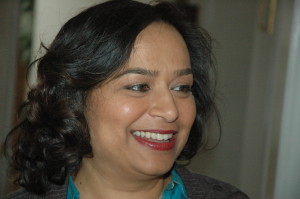 1975 and with whose encouragement and support she briefly pursued professional theatre in India, along with actors Paresh Rawal, Swaroop Sampat, Sameer Khakhar, who went on to be celebrated actors on stage and in Bollywood, and directors as Dinkar Jani and the late Shafi Inamdar. In Mumbai, Jasmine has also written, directed and acted in plays in French and German.
An award-winning alumnus of the post-graduate journalism program of Bhavan's Rajendra Prasad Institute of Communications, Mumbai, she started writing plays after she moved to Saudi Arabia and continues to hone her writing skills in Canada, having written and co-written plays for SAWITRI Theatre Group including The Kallus Next Door, published in Word Fest, Celebrating Ideas. It was also read at the 2014 INSPIRE! Toronto International Book Fair. Saree Kahaniyan – Saree Stories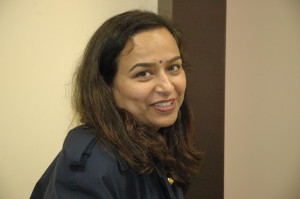 published in Word Fest, Celebrating Our Journeys, was performed on many occasions. One World Our World, a dance theatre piece for young audiences, commissioned in 2009 by Sampradaya Dance Academy, was remounted in 2015. Jasmine is a member of the Playwrights Guild of Canada and the Mississauga Writers' Group. Her most recent work is the English translation of the full length award-winning Marathi play, Case #99, by playwright, Yogesh Soman. The play received its world premiere in October 2015 at Sampradaya Theatre, Mississauga and is being remounted at Buddies in Bad Times Theatre, Toronto in May 2016.
In her day-time avatar, Jasmine is the General Manager of the award-winning dance company, SAMPRADAYA Dance Creations. Prior to joining SAMPRADAYA in 2004, Jasmine worked at ARI Financial Services where she was responsible for corporate accounts and customer service. She has taught at the Indian Embassy School, Dammam, Saudi Arabia, worked at the French Embassy in Bahrain and the Max Mueller Bhavan (Goethe Institute) in Mumbai. Jasmine holds a degree in Accounting from the University of Bombay and diplomas in Journalism, French and German. She has been in theatre and film for over 25 years and believes that it all begins with a good story.
Devoted to the enrichment of the South Asian performing arts, Jasmine collaborates with South Asian organizations as Marathi Bhashik Mandal, Hindi Writers' Guild, RangManch Canada, etc. She was the Coordinator of Desi-Lit's Mississauga Chapter and a member of the Meadowvale Theatre Advisory Board and is currently a Board Member of the Small Arms Society, Mississauga. She has also held other volunteer positions on school councils, with Scouts Canada, and Peel Health's Community Food Advisor Program.